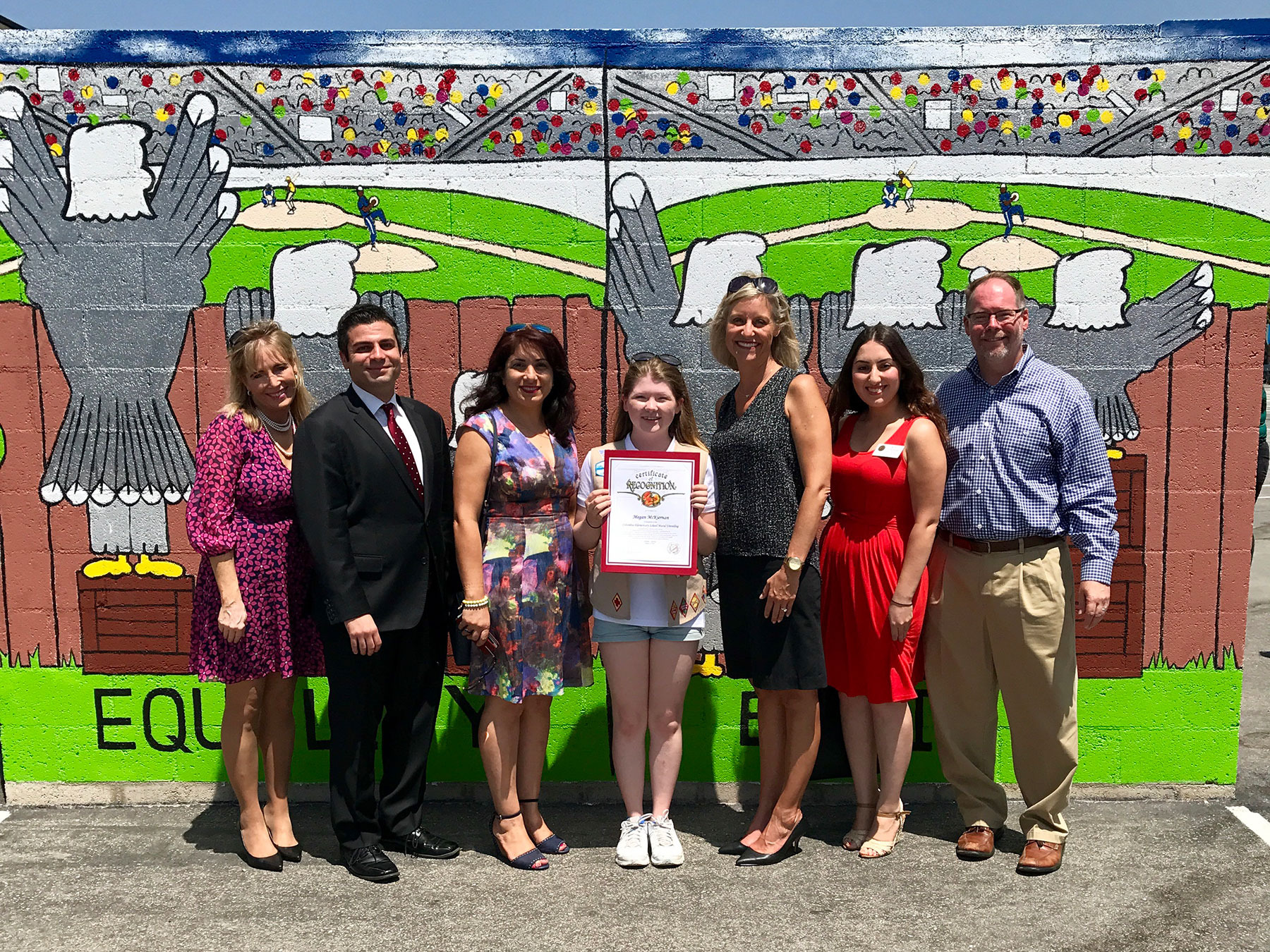 By Priscella Vega
When students arrive at Columbus Elementary School on Wednesday to start the new school year, they will have a new piece of art to admire while on the playground.
On one of the walls on the handball court, a mural depicts six eagles of varying heights looking over a fence to watch a baseball game.
On one half of the mural, three eagles are standing on top of a three equally sized boxes, leaving the shortest eagle unable to see the game. The word 'equality' is written underneath.
The other half shows three eagles successfully viewing the game, with two of the eagles standing on different sized boxes and the word 'equity' written under them.
"It's about school spirit, and it's a social message that words can't necessarily [get across as well as] art," said Megan McKiernan, an incoming senior at Crescenta Valley High School and the Girl Scout who painted the mural.
She added that the artwork is part of her effort to earn a Gold Award, the highest achievement in Girl Scouts.
Her mural was unveiled last week during an event where Glendale Unified district staff, residents and members of Megan's family attended to hear her talk about her artistic project.
That day was also orientation for kindergartners, Megan said, and she encouraged the young students to draw their own art on the other side of the handball court wall.
"It's a great message for students to learn [about equity and equality] as they're going through elementary education and are hopefully inspired," said school board member Shant Sahakian, a former Columbus Elementary student, during a phone interview Tuesday.
Megan said she was inspired to pursue a Gold Award after taking her first art class at school last year. She had always doodled and sketched portraits of her friends, but the class helped her hone her skills by drawing landscapes and plants.
Megan pitched her idea to Elena Rojas, principal of Columbus Elementary, via email. Once Rojas heard her plan, Megan said Rojas immediately agreed.
Rojas selected an image found online illustrating the same message, but with humans, Megan said. Rojas encouraged Megan to use eagles — the school's mascot — instead.
Megan began painting the mural with help from friends and family two to three times a week until she said she realized it was "taking too long," trying to work with multiple schedules.
So, she started visiting the school at 7 a.m. on weekdays, logging over 80 hours to complete the piece, Megan said.
Now, she's working on a second mural for Glenoaks Elementary School and plans to start a mural club at Crescenta Valley High.
"I feel so accomplished, seeing it finished," Megan said. "Making murals is such a rewarding thing to do, and once you're done, there is a beautiful thing to look at for years to come."
Source: Glendale News-Press