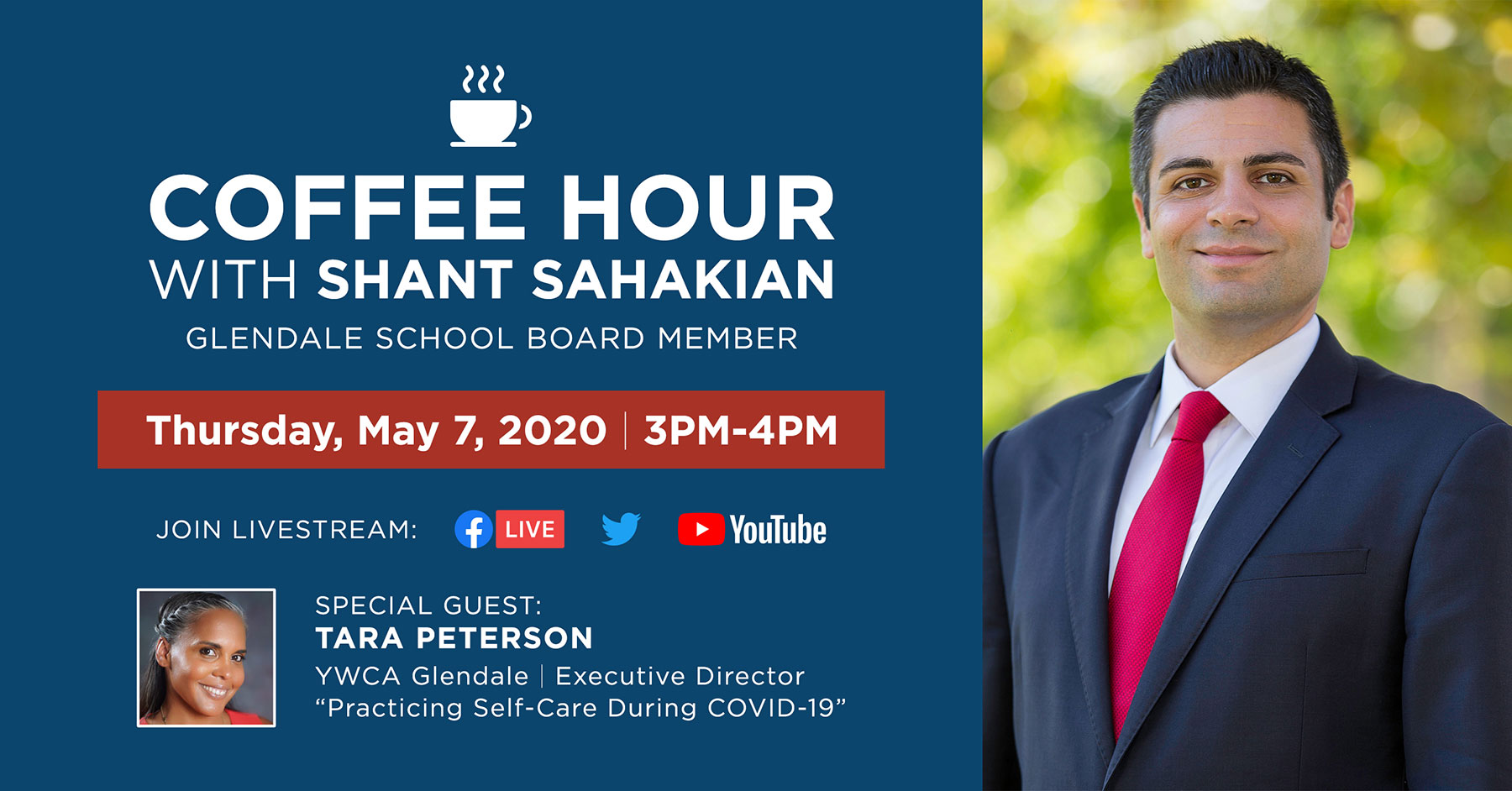 Glendale, CA (April 28, 2020) – Glendale School Board Member Shant Sahakian will be hosting his inaugural Coffee Hour virtual event on Thursday, May 7, 2020 from 3:00PM to 4:00PM. The event will be livestreamed on Facebook Live, Twitter Live, and YouTube Live.
During the Coffee Hour event, Sahakian will be discussing the future of the Glendale Unified School District including its COVID-19 response, transition to remote learning, and support services for students and families. The virtual event will provide community members with an opportunity to engage and connect directly with their School Board Member.
"I look forward to having a critical conversation with our Glendale Unified family on the future of our schools and community," stated Glendale School Board Member Shant Sahakian.
Sahakian will be joined by special guest Tara Peterson, Executive Director of YWCA Glendale, who will be discussing the importance of practicing self-care during these challenging times. YWCA Glendale is dedicated to eliminating racism, empowering women, and promoting peace, justice, freedom, and dignity for all.
The virtual event will conclude with a live Q&A session to provide participants the opportunity to ask questions, offer suggestions, and request more information. Participants may also submit questions and comments prior to the event by emailing [email protected].
 Facebook Live:
https://www.Facebook.com/ShantSahakianGUSD
 Twitter Live:
https://www.Twitter.com/ShantSahakian
 YouTube Live:
https://www.YouTube.com/ShantSahakian
Learn more about the Coffee Hour virtual event at https://www.ShantSahakian.com/CoffeeHour.
About Shant Sahakian
Shant Sahakian is an Elected Member of the Glendale Unified School District Board of Education representing District D. He was elected in April 2017, becoming the youngest School Board Member elected in Glendale history. Shant is a lifelong resident of Glendale and a product of Glendale public schools with deep roots in the community. He is a longtime community leader who has championed Glendale's youth, advocated for the underserved, and served the community through a distinguished record of public service. He is a graduate of CSUN and UCLA Extension. He and his wife, Suzanna Sahakian, reside in Glendale, California with their son, Raffi Sebastian Sahakian, and daughter, Lori Sidney Sahakian.